___________
Michigan Liquidators holds the highest level of recognition with EstateSales.Net as
( Gold Member )

___________
Holds the highest rating with Estatesales365.com as
( Spotlight Member )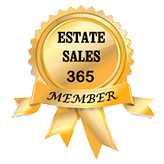 ___________
Holds the highest rating with EstateSales.com as
( Featured Company )

___________
And also holds the highest rating with Estatesales.org as
( Elite Member )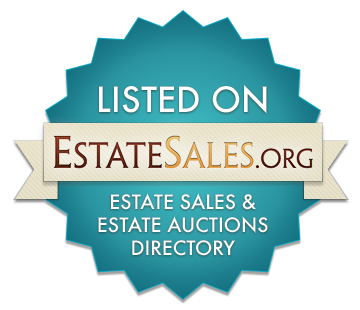 ___________
These Credentials are very important contributes when conducting and advertising for a successful Estate Sale.

Estate Sales
Our Commitment to you – Our staff is committed to easing the stress and anxiety that often comes with the liquidation of an estate. We focus on client satisfaction and strive to simplify and expedite the process. Professionalism and integrity are our number one priority. We value and treat our clients as we would like to be treated. Our commitment is to provide exemplary service and work diligently to serve our clients best interests.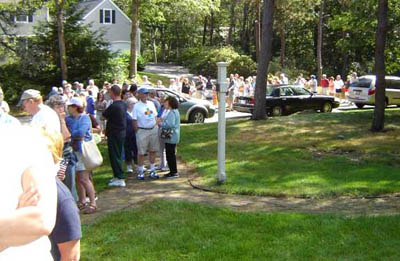 Michigan Liquidators provides the following:
Free Consultation
We visit the home to help determine the best way to conduct your sale. Keep in mind, anything and everything sells at estate sales. Please do not donate, throw away or box up anything prior to the consultation. We experience everyday several families discarding valuable items while cleaning drawers or cupboards.
Sort,Stage and Price
Don't stress about organizing the house, basement and out buildings. Michigan Liquidators will do it all, from emptying closets, cupboards and dressers to unpacking boxes stored away in the garage. Presentation is the key to ensure a successful sale, so items are cleaned, organized and displayed creatively. Our fee is based on the estates total gross sales, so it is to our goal to sell the contents at the highest possible price. Our staff appraisers are knowledgeable in every specialty allowing us to find the best price for everything, from the fabulous to the mundane.
Advertise
Michigan Liquidators uses it's unique marketing strategies that best fit the requirements of each sale. We utilize online professional Estate Sale Sites, our database of extensive email list, private collectors, and social media. We also write descriptive, attention-getting ads to attract serious shoppers. Professional signs are posted on the days of the sale. As a bonus, if you are selling the property, many potential buyers will have the opportunity to see the home during the estate sale.
Conduct the Sale
Our professional staff is stationed throughout the house for security and assistance to ensure that the sale runs smoothly and efficiently. A average sale has 4 to 5 staff members selling and making the sale fun. ( Happy People Buy More ) When needed, we use locking show cases with attendant to securely display small valuables. Our sales are always staged with a one way in and one way out policy with our professional check out area located at that entrance. ( Checkout area includes casher with cash register, checkout assistant and holding tables for shoppers.)
End of the Sale
Michigan Liquidators, as included in our commission, facilitates the removal of any remaining contents with a clean out service with a charity of your choice. If the family wishes to handle this process, it is 100% Ok. We at no time take any possession of the Estates items prior to or after sale. For a small fee, we can coordinate the removal of excessive trash for you if it is required. The home is left empty, broom swept and ready for the market.
____________________________________________
Specializing In The Sale Of Totally Restored Vehicles To The Long And Forgotten Barn Finds Of A Estate.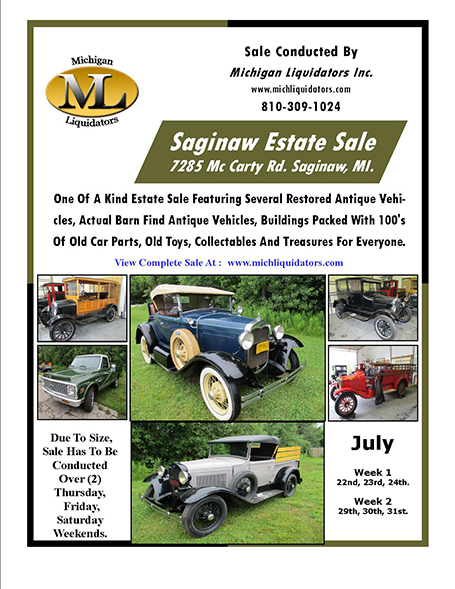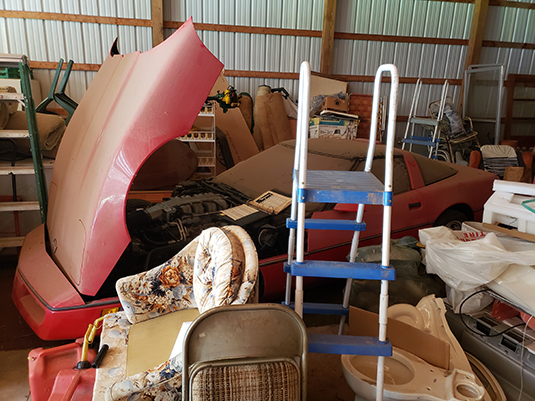 (Barn Find) 1990 ZR1 Corvette
Untouched for 24 years
Do you need more information on an upcoming sale?
Need to liquidate a estate, a business, or corporate assets?
Contact Michigan Liquidators. Today!
Contact Us At: 810-309-1024
>
Web Design by Jumping Jack Flash. - All Rights Reserved 2010